Discover more from The Chief in the North Newsletter
Going beyond the box score to review, analyze, and discuss Kansas City Chiefs' game film. Occasional thoughts on parenting, lawyering, frozen pizzas, and the NFL as a whole.
Over 10,000 subscribers
More than fast: how Tyreek Hill became a top 3 wide receiver
Examining how Hill has become adept at the nuances of his position
Yes, Tyreek Hill is fast.
He's fast in a way that makes other fast guys look slow. He's fast in a way that defies accurate description until it's seen live. I'll never forget one of my brothers-in-law reacting to Hill when he came to Arrowhead Stadium with me. It was during the 2018 Week 14 barn-burner against the Ravens, in which Hill was magnificent.
It wasn't a nine route that made my brother-in-law's jaw drop and had him talking about Hill the rest of the day. Rather, it was a simple pitch that gained 6 yards.
This is the sort of play that people who don't watch Hill regularly miss out on, and it demonstrates the difference between him and every other player on the field. Runners aren't supposed to be able to stop, start, and run away from NFL defenders like this. Hill can.
He's so fast that he wrecks the angles of players who are supposed to be among the fastest in the league.
The cornerback covering Hill on this play is Jonathan Jones, who ran a blazing 4.33 40-yard dash. After clearing through some picks by other receivers, Jones is in what he thinks to be solid position to keep Hill from the sideline. Jones even slows down to prevent a cutback, not realizing the danger. Hill sees this, and accelerates in a way that doesn't look human, erasing the angle and gaining an extra half-dozen yards.
So yes, Hill is fast. So fast that it's all people talk about when referencing him. But they really shouldn't. Because over the course of the last 2 seasons, Hill has become an exceptionally well-rounded receiver in every facet of the game. Only no one noticed, because he's just so very fast. But even if he weren't the fastest player in the league, the other traits he's developed would still lead to him being an exceptional player.
Hill has worked on his feet and honed his natural quickness into exceptional stop/start and change of direction on his routes.
The threat of Hill's speed forces the cornerback to turn and run immediately as Hill explodes into the route, for fear of being beaten deep. But Hill has refined his route running to the point that he rarely wastes steps when breaking. Combined with his natural quickness, this allows Hill to stop nearly on a dime and creates an easy throw for Mahomes.
That sort of stop/start is impossible for defenders to mirror, even if they're allowing cushion on 3rd and long. Hill's ability to control his body and adjust for the ball while making his breaks/cuts adds another dimension of difficulty for defenders as well.
The cornerback in coverage here is again faced with an impossible choice. He can't allow Hill to get past him as there is no safety help. But he also doesn't want to give up the first down. Notice how Hill presses the route past the first down marker prior to making his cut, knowing that he'll force the defender to go deeper down the field.
The ball arrives on a frozen rope (because Mahomes), and it comes in a bit higher and sooner than Hill seems to expect. It doesn't matter, though, as Hill's ball skills and unique body control allow him to adjust. These traits are what make Hill one of the best contested ball receivers in the NFL despite his short stature.
People (wrongly) believe that in order to be an excellent contested ball receiver, a player must look like A.J. Green (to be fair, it doesn't hurt). However, the ability to track the ball in the air and adjust to it on the fly is much more important than height or arm length. It also doesn't hurt that Hill could probably jump out of a 10-foot swimming pool with me strapped to his back (that'd be weird, though).
Even if Hill's elite traits ended at his speed, quickness on breaks, and ball skills, he would be an upper-echelon receiver. But he's developed his game in multiple other areas as well, making himself impossible to effectively cover.
He's worked on his hand fighting and leverage to deal with physical coverage, both at the line of scrimmage and while on routes, to the point that it's often worse for defenders to try and initiate contact with him.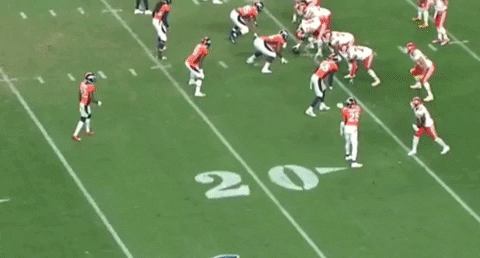 Here, Hill is covered by Chris Harris Jr., who had acquitted himself well against Hill in previous years. Hill (as is typical for him) explodes into the route and chews up Harris's cushion, moving inside to create the appearance of trying to go around Harris down the field.
Harris responds (perhaps smartly) by reaching out and grabbing onto Hill while trying to turn and run. Hill anticipates this and leans into the contact, then uses his outside hand to throw Harris inside while Hill cuts outside. Because Hill is remarkably strong for his size (if you've never seen him in person, he's built like some sort of compressed demigod. Or a shorter Tanoh Kpassagnon), Harris can't hold up against the contact and gets left behind.
The way Hill runs this entire route shows how he's grown. The nuance to press into Harris and set up as though he's going down the field and inside. The lean into the contact rather than being jostled by it. The sudden cut outside (with no wasted steps) combined with shoving Harris's hold to the side. There's no correct way to cover this.
Some defenders might try their luck pressing Hill at the line of scrimmage, in order to prevent him from forcing them into a losing battle of speed/quickness. But Hill has become exceptional at getting free releases at the line of scrimmage, taking advantage of his quick feet to prevent contact.
Here, the defender is attempting to stymie Hill at the line of scrimmage in order to screw up the timing of the route. It's a great idea in theory. The problem is Hill has become exceptional at stutter-stepping press into oblivion. Note that again, Hill doesn't waste steps in his fakes and creates a legitimate threat of going either direction before breaking left around the desperate grab of the defender.
Once Hill has broken the press, the defender is in the impossible position of trying to keep up without having his hips turned. A touchdown is almost inevitable, though Mahomes made it look easy with a spectacular throw.
Another crucial area Hill has become a refined route runner is in varying his speed throughout routes. Young receivers (and frankly, plenty of veterans) sprint through every part of the route at top speed. This can hurt separation depending on the route, as it gives away where a receiver is going.
This is an exceptional route by Hill, and one that requires a great deal of nuance to do properly. Trae Waynes, another cornerback with blazing (for a human) speed, is in coverage on this play. Watch Hill's speed before he hits the 30-yard-line. He deliberately avoids accelerating to the max, which creates the appearance that he's about to break one direction or the other and keeps Waynes from sprinting deep. Further, it lulls the deeps safety into a false sense of security as to whether the route will go to the deep right corner.
Once Hill has set up the break, he explodes towards the corner. Waynes tries to block him with an arm but Hill swats away the contact and creates quick separation. The safety can't catch up, and Hill makes an excellent adjustment to an overthrown ball to dive into the end zone.
Still another aspect to Hill's game that has gone widely ignored is his increased awareness of where coverage is and how to adjust to it.
This isn't the sort of play people pay attention to, but it and dozens others like it have accounted for defenses being increasingly unable to contain Hill utilizing zone coverage.
Once Hill turns on his route, he recognizes zone. Further, he sees that the defender to his left is drifting away from him to compensate for Mahomes' movement. Hill reacts by drifting himself that direction, away from the linebacker over the middle who could otherwise try and contest a throw his way.
These minute adjustments are something Travis Kelce has feasted on for years, and they demonstrate an ability to read and react to defenses in real time that Hill doesn't get enough credit for. Many receivers trust their routes more than they should, to the point that they'll run themselves right into a zone defender's coverage area rather than adjusting.
Hill is also adept at recognizing when plays have broken down and "finding grass" when that happens to create an opportunity for a big play.
Hill's initial route doesn't get him open here, with the deep safety doing a nice job bracketing him. Mahomes doesn't like his other options (before you try telling me that Watkins is open at the top of the screen, note at the end that the deep safety is lurking to try and poach a throw that direction) and eventually comes under pressure.
Hill sees what is happening, and takes off towards the sideline to provide Mahomes an option down the field. He makes a great adjustment on a tough throw/catch, and the Chiefs move the sticks.
Yes, Tyreek Hill is fast. We can start there. But he's much, much more than that. He's evolved into a superb route runner and overall player, capable of winning against any sort of coverage and in any situation. There aren't five receivers better than him in the NFL. There might not even be one. So the next time someone tells you that Hill is a fast receiver, please do what you can to enlighten them that he's not just that. He's an elite one.