Discover more from The Chief in the North Newsletter
Going beyond the box score to review, analyze, and discuss Kansas City Chiefs' game film. Occasional thoughts on parenting, lawyering, frozen pizzas, and the NFL as a whole.
Over 10,000 subscribers
Welcome to the Chief in the North Newsletter
Welcome to The Chief in the North Newsletter.
If you don't know me, my name is Seth Keysor. I've written about the Chiefs for over a decade at both SB Nation (formerly) and The Athletic (currently), and it's been one of the genuine privileges of my life. I love researching and writing about football. I love talking about football. I love everything about it.
This newsletter has been a long time coming, and is something I'm deeply excited about. I've long wanted to have a direct line of Chiefs coverage from me to you, Chiefs Kingdom. I wanted to find a way to deliver straight to you the sort of coverage that you've (hopefully) come to expect from me over the years, without having to worry about clickbait or SEO or the other things that dominate the sports coverage world. If we're able to make this work, that's precisely what this newsletter will be.
Here, I hope to cover things at a level of detail that I've never explored before, delving into things that fanatics (or to put it another way, people with issues as deep as my own) will enjoy. Like finding throws made by Patrick Mahomes that fly under the radar.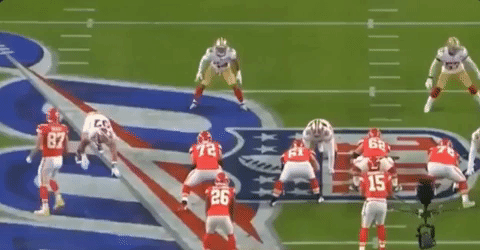 I hope to provide in-depth content at a level that makes subscribing look like the best choice you've ever made in consuming sports content. The paywall requirements of Substack only let me go as low as $5/month or $30/year, but in an effort to make this affordable for anyone who wants it, here's a link for 60% off the subscription price forever (so $2 a month or $12 for a year). And it's one I plan on keeping active for as long as I'm allowed to do so.
This is scary, trying something new. I'm both excited and nervous at the same time. But I do know that this is the best way forward to trying to bring you exactly what you've asked for from me, as often as I can.
Subscribe by clicking the button below, and let's talk some Chiefs.

Whoops, almost forgot to remind you… it's a good week to be a Chiefs fan.